Sho, Our Black Hmong Guide and Friend, Gets Married!
Those of you who have been following our newsletters for a few years know of our friend Sho, a beautiful, intelligent, vivacious Black Hmong woman with an acute business sense who was our first guide in the Sapa, Vietnam region, and who has continued being a special friend (see Newsletter #6 for an introduction).  This summer, the timing worked out just right for Ari, Zall and Maren to attend her two weddings in Vietnam to her French husband, Antoine, who works as a hotel manager in Sapa; the first wedding was a Black Hmong event held at her parent's house, and the second, a "white-dress" wedding at a nearby eco-lodge.
I need to preface with the comment that all of us have been "in love" with Sho since we first met her – she holds a special place in all of our "boy's" hearts.  I have called her "my daughter", and have jokingly bemoaned the fact that Ari is 5 years younger and not old enough to marry her.  As such, when the three of use first saw Sho and her daughter (born 2 months before the wedding!), huge hugs went all around.  Just then, a man came out from a nearby coffee shop, and Sho introduced us – he was Antoine's father.  I put my arm around Sho and told him she is my daughter.  He put his arm around her and said, beaming with pride, "No, Sho is MY daughter!"  A better introduction could not be had.  Having a father-in-law so pleased and happy with her relieved any of our anxieties about her acceptance into her new family.
In reality, Sho and Antoine were already married.  They had had the formal paperwork wedding in early April, before their daughter Alice was born.  We were invited to attend the fun Vietnam weddings; a fourth wedding was later held in France with all of Antoine's extended family and European friends.
The Hmong wedding held at Sho's parent's house with a group of about 100, included Sho's closest friends and family, Antoine's closest local friends, and Antoine's dad and brother who had flown in for the event.  Many of the Hmong, as well as Antoine, were dressed in traditional Black Hmong clothing including a handspun, indigo-dyed cotton jacket – the women's jackets had silk-embroidered sleeves – and a handwoven, indigo-dyed hemp vest with a silk-embroidered collar.  The traditional Hmong wedding includes eating vast quantities of delicious local food, drinking non-stop, and hoisting uncounted toasts to the family of the bride and to the bride and groom.  Had Antoine been a traditional local Hmong man, he would have knelt in front of the bride's father; this step did not happen as Antoine had been accepted as family for some time.
It was hot, hot, hot.  Even high-elevation Sapa is hot in June.  Everyone who could shed their hot local clothing, but Sho said she couldn't, as it was required of the bride.  Throughout the meal and party, Sho nursed Alice, and handed her off to friends and family to hold.  Even I got to hold her for a few minutes!  As we would expect, Sho conducted the whole event – center of it all, in charge, and having a ball!  Everyone toddled off in a happy state, including the three of us, who had to hire motorcycles to get us back to our hotel – the boys loved it!
The next day was the "white-dress wedding" – more of a reception – at an upscale eco-lodge an hour drive from Sapa that offered a stunning hilltop setting overlooking a lush, terraced valley full of sun and flowers.  Sho was resplendent in her western wedding dress, with constant photos opportunities.  She would yell "Zall – hey Zall – take a picture!" and he would go running to take more photos – over 1,000 that day alone!  There were many more people at this event, about 300 total, including Hmong and Westerners, and a fabulous barbeque meal was shared.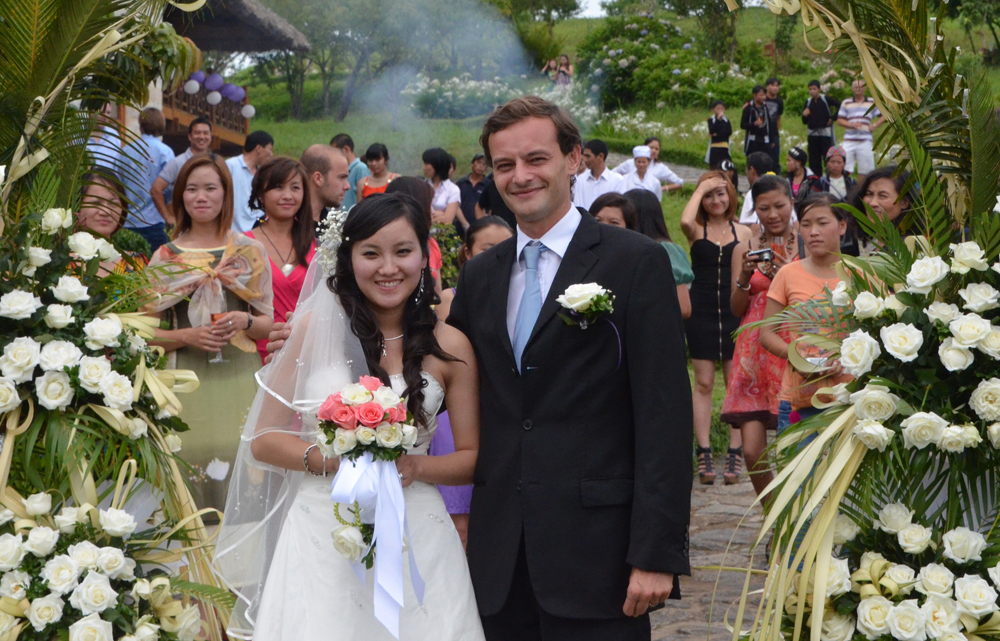 Even though the Hmong and westerners knew each other, it was clear, watching their faces, that the Hmong were not used to the western ways of marriage, watching the celebrations from a slight distance and with questioning looks, not knowing quite what to expect next.  Most of the Hmong wore their traditional clothes, except for the young lady friends of Sho's who wore shimmery outfits in silk, cut to western styles.  Sho danced with Antoine, her father-in-law, and Ari – the only ones so privileged!  We knew many of the local people, having met them in the market or because of our "Above the Fray" interests; of course, we know many of Sho's friends and family from our years of visiting.
One of the young Hmong men, dressed in western garb, talked with me a bit, calling me "ma".  I asked him why everyone had been calling me "ma" (yes, it means mom, just like it looks), and he said that it was what Sho always calls me – her second mom.  Boy did that make me feel special!   It is true, I was the only western woman present at either wedding (her mother- and sister-in-law were at home preparing the wedding in France).  All of the western men living in Sapa had Hmong girlfriends or wives, and there are no western women, it appears, who have made Sapa their homes.
Ari had to leave this wedding early to travel, for the first time alone, on to Vientiane, Laos, to start his internship with MAG (see his article in this newsletter).  Zall and I stayed on and Ti, Sho's sister, became our guide for a 5-day exploration of some new parts of NW Vietnam, including Son La Province.  Ti's husband Trang, the maker of the beautiful traditional Hmong jewelry we sell, came with us – his first time ever riding in a car!  What a treat to be able to take him with us and share our trip!  Sho, despite being on a honeymoon of sorts, called Ti daily to make sure everything was well – she obviously didn't like the idea of relinquishing her shopping and guiding relationship with us!  Needless to say, Ti was fabulous, and we discovered an array of new treasures we will share at our fall events (along with some new earring styles from Trang).