On our first Asian adventure in 2005, our family of four – mom, dad, and 12 and 9-year-old sons – made a pact: If you want to tell the story about the weird food, you had to try it. No try, no story.
Thus, as we travelled overland through Vietnam and Laos, we savored the flavors and stories of our culinary curiosity: the piquancy of stewed bamboo rat, the pungency of steamed bat, the "squish-plosion" of thumb-sized bamboo grubs, the crackle of beetles' shells, the pastiness of cooked tadpoles, the thick sweetness of duck blood, the soft crunch of ant eggs.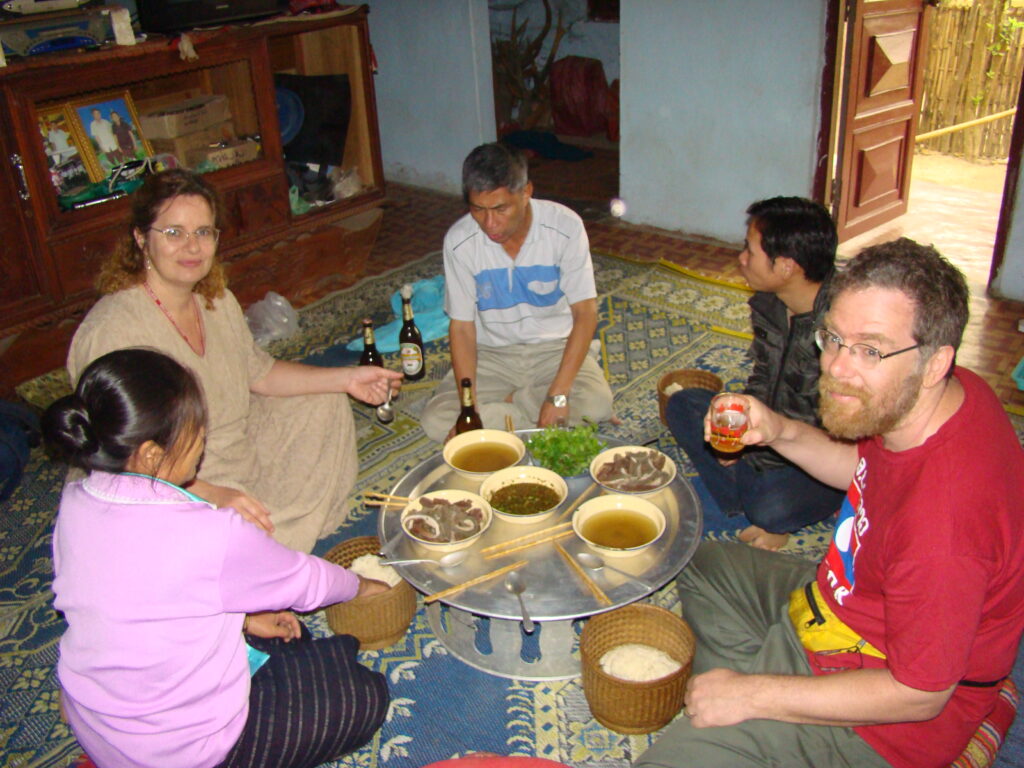 Chilies, garlic, and ginger; bitter, sour, astringent, pungent – it's all fair game. If it crawls, slithers, swims, flies, wiggles, or walks, then it's got guts, bones, meat, fat, and skin. And you can call it dinner.
In fairness, many local traditional dishes are excellent. Fresh steamed greens, from sweet spinaches to spicy mustards to bitter morning glory, are served at most meals. Souksakone's catfish soup with tamarind leaf is a knock-out, and a prepared chicken is only an hour older than its clucking self. Every meal comes with copious baskets of sticky rice, and every table has a djeow, a spicy dipping sauce. However, delicious faire does not a story make.
All's fair when it comes to new friendships, so our family decided, on our fifth visit to Xam Tai, Laos (home to many incredible handwoven silks that support the import business we started in 2007), it was time to introduce our Lao hosts and friends to American cuisine.
Our first thoughts were to push flavor boundaries, as our own boundaries seemed so pushed in Laos. We considered powerful, sharp flavors that appeal to the palate of a falang (foreigner): aged bleu cheese, sour dill pickles, balsamic vinegar on uncooked lettuce, Fruit Loops with whole milk…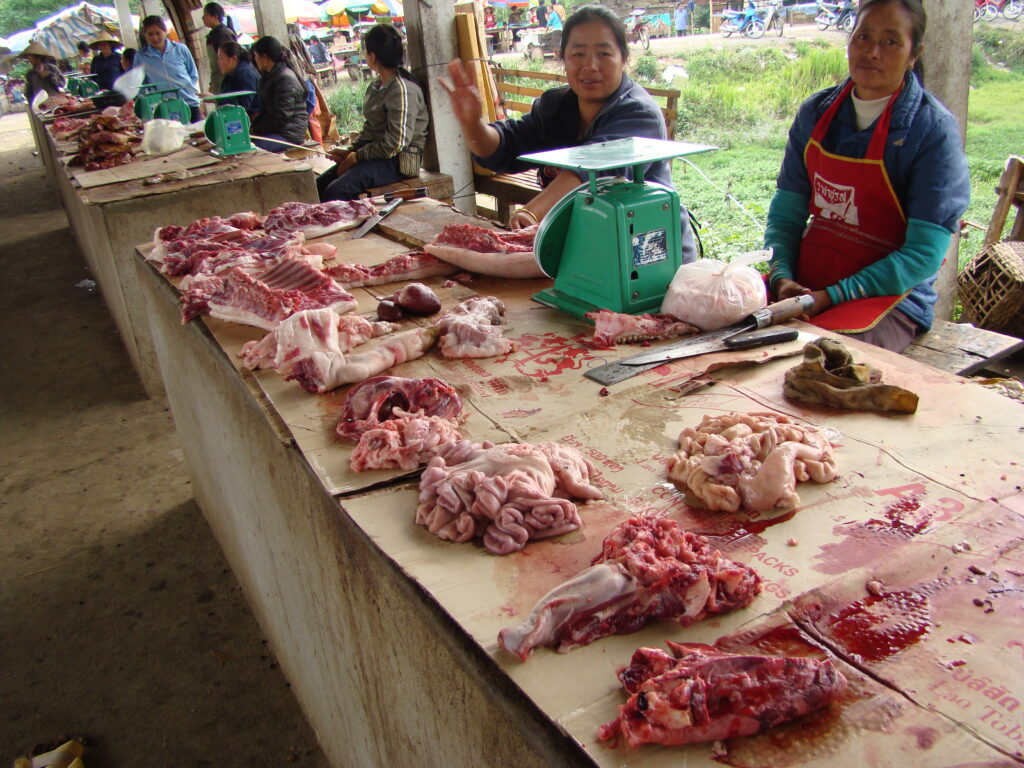 Then we reconsidered: Better to gain trust with flavor and texture rather than look for a laugh. Rather, let's woo them with a great meal. Something unique, and richly persuasive.
And so, for our first han falang ("meal of the foreigners") we sought to capture the flavors and presentation of the quintessential "American Breakfast" for about 25 Lao weaving friends and their families.
We hauled most of the meal across the Pacific Ocean: a 10 pound bag of pancake mix, a bottle of safflower oil, a wide pancake turner, a large stainless steel frying pan (a wok wasn't going to work), 25 metal forks from Goodwill, and paper plates. Maren splurged on 2 lb. of ground French roast and 5 lb. of apple-smoked bacon. Airline security must have laughed when the read the note on our ice-packed insulated box: "Frozen Bacon. Please rewrap securely!!"
Our friend Souksakone offered her home and kitchen for the event, and several local weavers who knew us arrived early to share company and cooking chores.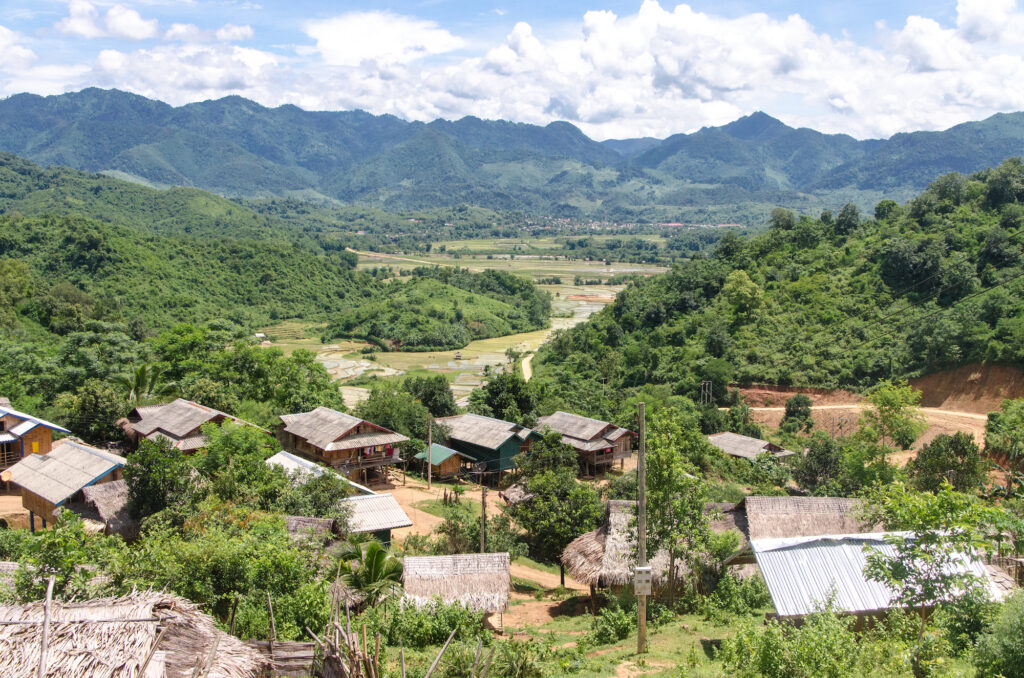 Coffee was first on the agenda, and the dark roast aroma drew remarks from everyone. While Laos does grow coffee (primarily in the far south), the people of Xam Tai rarely indulge and, when they do, it is a thick chocolaty brew blended with sweetened condensed milk. Steaming mugs were passed around, and the laughter and voices grew a little louder.
Souksakone got a second fire going to the side of her outdoor cooking area as Maren and Malaithong, our local translator, stirred up the pancake batter, adding several local fresh eggs. A first pound of bacon sizzled when it hit the hot wok. Phout, with a wide grin, put her whole face over wok, breathed deeply, and then exhaled a paragraph of high-toned Lao words that had everyone laughing.
Lun and Sukkhavit took charge of cooking the pancakes, greasing the frying pan with lard and pouring on the thick batter. Maren put our 14-year-old son, Zall, in charge of the fruit salad, and several others joined to cut local mangoes and bananas that were added to the pears and apples we had bought two days earlier in Hanoi.
Everyone was laughing and chopping and flipping and stirring. More bacon hit the pan, another pot of coffee appeared, a dozen more eggs were cracked and scrambled.
Several tables were put end to end outside in an area usually reserved for parking. Hamman, Souksakone's husband, had starting setting bowls at each place setting, but Maren quickly stepped in: "Bo, bo, bo," ("no, no, no") she laughed, and she handed Hamman the paper plates. Maren had Malaithong explain to everyone that this was an American breakfast – a han falang – and that we were all going to eat like Americans, buffet-style. Everyone laughed again. Phout clapped Maren on the back and expressed a rhapsodic sentence that drew more laughter. "She says," Malaithong translated, "This big long table, right here in front of us, is now in America, not in Laos." And everyone laughed again when we laughed.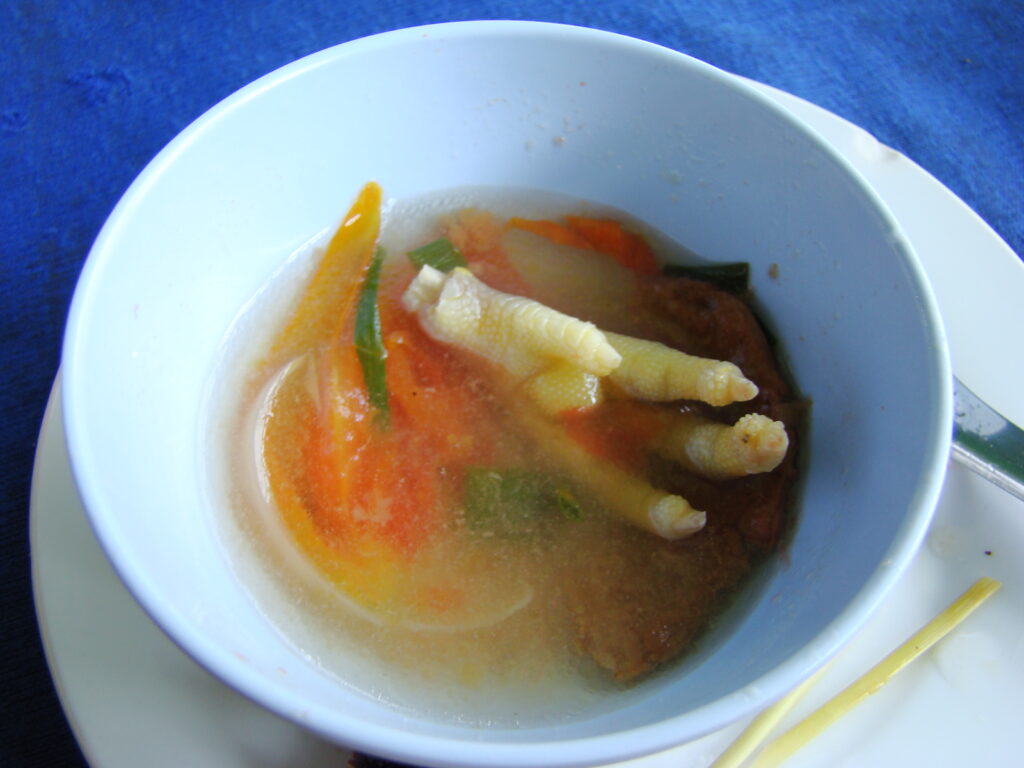 Plates were heaped with pancakes, bacon, scrambled eggs and ladlefuls of fruit salad. Maren took charge of pouring the real maple syrup. People were amazed that a tree could produce something so sweet. Two quarts of Vermont's best just stretched through the one meal.
"Do Americans eat like this at every meal?" asked Lun. We explained that this was a fancy meal, something that friends and family would do together on a special occasion. Everyone nodded.
Phout sat down and mindlessly reached for her top pancake with her hand. "Bo, bo, bo," cried Maren. She held up her fork and said in English: "In America, everyone eats with a fork!" and she proceeded to show Phout how to use the side of a fork to cut pancakes. More gales of laughter, and another pot of coffee arrived.
Everyone had seconds; Bounkeo, Lun's husband, had thirds.
Sukkhavit got Malaithong's attention for a translation: "I have tried American food before, and did not like it. But this is very good." There were lots of nods.
"I could eat like this every day," chimed Bounkeo, leaning back in his chair.
"No, no," laughed Maren. "You wouldn't like it because soon you would be very fat," and she puffed out her cheeks. Malaithong translated and again there were hoots of laughter.
Everyone insisted that on the next visit we bring another han falang. Maren offered to bring a dinner, prompting a discussion about how in America we eat different foods at different meals.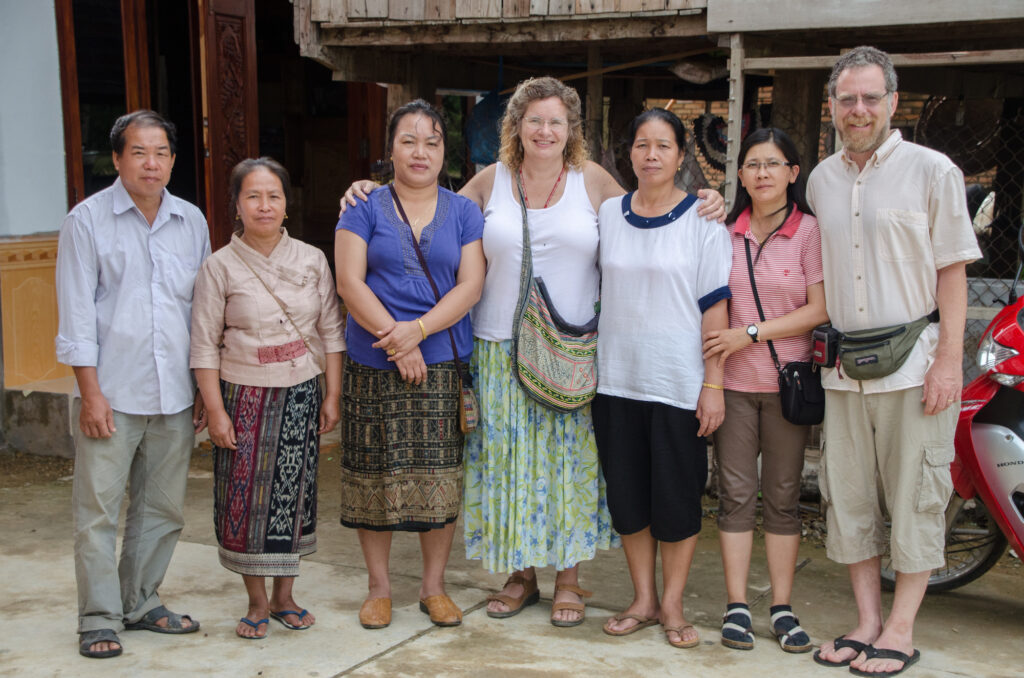 Afterwards, Malaithong claimed the frying pan, Souksakone the pancake turner and forks; requests were made for additional utensils to be brought on or next visit. Hamman laid dibs on the unconsumed ½ pound of Starbucks.
Now, over several years, our friends in Xam Tai have sampled hamburgers with buns (Heinz ketchup gets a big thumbs up), spaghetti with meatballs (as if eating pancakes with a fork is funny), cold potato salad (unanimously deemed "awful"), bean chili with Fritos ("Where are the chilies?" they asked), and hot dogs with sauerkraut (nothing canine, we confirmed).
I think we've gained their trust now, and it seems they'll try most anything – at least once (How else can you tell the story?). Including, on this last trip, a ripe, slightly-fuzzy bleu cheese.