To Market To Market, in Bao Lac
Our hunt for textiles and tribal goods in hilltribe Laos and Vietnam leads us to some great market settings, each with its own charm and challenges.  In this story, we visit a larger hilltribe market in Cao Bang Province in far north Vietnam.  Regional markets are weekly, colorful affairs when thousands of nearby small-village residents from diverse ethnicities come to the region's hub for business, shopping, news, and good chat.
Waking up in Bao Lac on Market Day, I peer through a soot-stained window of our third floor room to see throngs of locals wending their way to the market center.   The women are dressed in bright ethnic fineries, and their cheerful, chatty laughter echoes through the streets; the few men are in their daily wear – drab pants and a shirt – and for whatever reasons they seem more intent and quiet.  It is 6 AM; the day is dim gray.
Early mornings are busiest and best in a market, so we rouse the boys, quickly throw on our clothes and stumble down the unlit stairs onto the dusty street.  Bao Lac is a modern Vietnamese minority town; its several roads are paved and the buildings around the few blocks of the downtown area are narrow 3 or 4 story-high businesses and homes.  People are arriving on foot, bicycle, and 100cc motorcycles from neighboring smaller villages.  This is the biggest weekly market in perhaps 30 miles in all directions, and a dozen different ethnic groups – Green Hmong, Dzao, Black Lolo and more, each identifiable by the women's outfits –  reside in the surrounding steep green hills and valleys.  An occasional car or truck honks and edges its way down the street that is rapidly filling up on both sides with vendors selling and trading their goods.
There is that hesitant moment before plunging into the throng – take a deep breath.  We do have a game-plan that includes breakfast in less than an hour, but to get to the food stalls will require bustling and squeezing our way to the central market plaza where the wood-smoke is rising.   Our guide, Sho, with a wide-awake smile, will help us translate in Vietnamese and Hmong with the vendors and other locals; she'll also help us locate hand-woven or embroidered textiles and other unique wares, be it an old opium scale, a beautifully worn basket, or locally-crafted jewelry.  We know that the local Dzao and Lolo people create intricate embroidered textile work, and Maren has her heart set on finding some full traditional outfits.  For the next four hours, I surmise, we will be engaged and in the middle of a crowded market with our attention-inviting appearance (and wallets).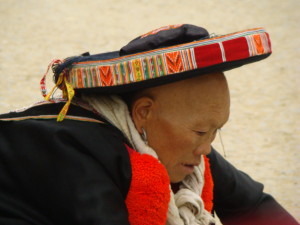 I no longer worry about the kids getting lost – our youngest, Zall, is a confident 14 and an adult by local standards.  That, plus we are all a head taller than the average local adult and our white faces and brown curls stand out above the crowd like candles over a cake.  Zall is also in Heaven; as a photographer he is entranced by a thousand colorful outfits and sun-wizened faces parading the grounds.  Most noticeable are the women's outfits decorated with brightly colored embroidery and applique, a dozen different headdresses, large hoop earrings and chains of necklaces.  Zall clicks away – some shots of the unsuspecting are snuck over my shoulder; other shots gain tacit permission with a smile or nod.  It helps that he's cute and young. Some do wave off the invitation to be photographed. (Practicing respectful photography etiquette – asking permission before taking photos or being discrete – enables all to continue to photograph stunning local scenes and people.)
People are hauling chickens and pigs in open-weave bamboo cages, rolling barrow-loads of greens and garlic and ginger, and shouting out for others to come and see the wares spread out on their blue tarp (yep – the tarps are everywhere).  The carnival energy is accentuated by the sight and smell of a popcorn vendor.   The sides of the main street turn into a street fair; every tarp has someone sitting cross-legged making change, barking prices, and catching up on the week's news.  The array of items for sale is boggling:  Nylon socks, medicinal tree bark, indigo-dyed hemp and cotton yardage, bright Chinese-made acrylic scarves and skirts, newborn chicks, pig intestines, donuts, high-heeled shoes, water buffalo horns, dried bamboo shoots, shaman paper for ceremonies, tobacco, crossbows, rice whiskey, and on and on.  A mix of new and shiny and old and traditional; pastries for the wealthy and rice balls for the modest.  Children beg parents for sweets, and adolescent men and women flirt on the bridge over the shallow, mucky river.  In the entire morning we notice only two other western couples with whom we share a few words of market appreciation.  As westerners, we gather a fair share of stares and nods, but in a town as modern as Bao Lac our appearance does not generate a hovering, gawking crowd (as does happen in some smaller markets).
Sho buys us each some unnaturally-green banana-rice goo wrapped in a leaf.  I take a bite and smile, then quietly discard the chalky remains in a pile of refuse someone has swept to the curb.  No doubt a treat for the next dog that wanders by.  We walk toward the center area, sort of a cul-de-sac at Bao Lac's heart, that on other days houses the daily market.  A large, simple wall-less cement building, perhaps 100' x 100', offers cover from the regular rains. During the week, all the vendors easily fit under the large roof with their vegetables, groceries, and plastic or acrylic Chinese-made wares.
Today's weekly market fills this building and then spills out onto the street for blocks.  The sides of the streets and every nearby business is busy and involved.  People sit in small circles on the curb's edge drinking strong, bitter tea; women in gaudy yellow and magenta headscarves haggle over prices; children with sticky hands and faces chase and squeal and weave through the busy crowd.  Inevitably some car wants to drive through and it creeps along, at a crawling pace, honking continuously for the crowd to part, which it ever-slowly and patiently does.  A horse patiently walks through the scene carrying vegetables in its appliquéd hand-made saddlebags.  A barefoot Green Hmong woman strides by with her now-empty backpack basket.  Everyone seems to have something they make or grow or raise or have acquired that they are eager to sell or trade.  Everyone, from the youngest walker to the most bent-over ancient, has a market-day agenda.
We squeeze onto half an unoccupied bench amid the food stalls; our cook looks up at us, wipes her sweaty brow.  A small fire at her feet heats a flat pan that cooks what look like crepes, and she eagerly points at the bowls beside her – one holds what looks like minced pork, another has whole eggs, another has a brownish sauce.  We look at her, shrug and smile as if to say: "Whatever – you're the chef!"  She smiles broadly, points a finger at our boys, rubs her stomach and gives us a thumbs up.  She ladles a soupy rice porridge onto the crepe pan, and with a long flat narrow spatula careful and quickly cooks one side and then flips the thin pancake.  She gathers a spoonful of meat and sauce and cracks an egg into the mix.  The steam and smoke from a dozen different food stalls fills the noisy, packed sitting area.   Egg/pork "crepes" arrive in a minute and we each devour two or three to the delight of the cook.  Sho strikes up a conversation on the side with an unusually dressed woman who is delivering firewood.  The woman explains to Sho that she is of the small San Chi ethnic group, and that yes, she would like to eat, but doesn't have any money.  Sho, without hesitation, buys the woman breakfast and they sit and chat quietly in Vietnamese.  Sho is always eager to improve her guide skills by learning of the local cultures.
After another hour of wandering – and feeling a bit disappointed at the lack of hand-crafted wares – Maren becomes enthralled with the Lolo women's bright-banded outfits and wanders to a group of a dozen Lolo women selling medicinal herbs and bananas on the market's edge.  Maren smiles broadly and admires a woman's earrings, and then the colorful armbands on her cotton jacket.  Smiles are shared; our children are introduced.  Through Sho, Maren finally asks if the outfits woven by the Lolo people are available anywhere for sale.  The women giggle.  "No, they are made in our village – each woman makes her own."  Maren, gaining courage, perseveres and learns that their village is about 30 minutes away.  One woman, it turns out, would be delighted to take Maren to the village where she has additional outfits perhaps to sell, but a motorcycle is required as the path is too rough, muddy and narrow for our rented vehicle.  Maren asks if we will need a permit to visit, as would be customarily required for going "off the track" in this particular province.  "No," the woman replies.  "My husband is the police chief, and I am the government officer for our village, so it will be no problem."
It takes Maren and Sho almost an hour and a fistful of Vietnamese dong to locate a driver of a 125 cc motorcycle (the usual 100 cc bikes are too tiny for a small local plus a … ahem … larger westerner).  Sho – all 80 lb of her – hops on the back of the Lolo woman's cycle, and, with a whoop, Maren, Sho and the drivers zoom off.
Now in the U.S. I might have worried.  There goes my wife on the back of a stranger's motorcycle to an unknown town.  And there goes our translator, leaving me with the rest of the family to fend for ourselves in the market's chaos.  But this is hilltribe Vietnam, and adventure only befalls those that seek and act.  Imagine not taking advantage of such an opportunity!
Some three hours later Maren and Sho reappear at our hotel.  Sho is now dressed head to toe in a traditional Lolo outfit (as if she weren't cute to start with!) and Maren carries two immense plastic bags filled with authentic Lolo-made tribal clothing, complete with headdresses.  She is beaming, sore from the bumpy unaccustomed bike-ride, and perhaps lightened just a touch from the rice whiskey that is compulsory at most every business transaction.  The ride had been a bit longer and slipperier than anticipated (isn't it always?), but the outfits and jewelry are stunning traditional pieces, and the experience itself was priceless.
Other than some hand-spun, handwoven, indigo-dyed cotton Hmong shirts, the most wonderful hand-made textiles were those being worn, but not sold, by many of the local minority women. And thus the Bao Lac market itself didn't yield many treasures, unless, of course, you count the smiles, the adventure, the fresh donuts, and the photos (thank you, Zall!).  That's the way, sometimes; but I've got to believe that the measure of a day's value is best assessed by the adventure you had, and the company you've kept.